Description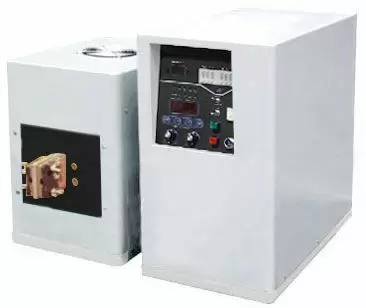 Note: This model only available in 220 volt single phase.
IHG series 100 kHz to 1100 kHz high frequency induction heaters are among the latest products developed by Across International. They can quickly heat most metals that other frequencies can not heat efficiently, like aluminum and metal powders. And uniquely they can heat parts from a distance. These heaters are the ideal tools for fine steel wires (such as those used in dentistry) annealing, small precision shaft quenching, hard alloy saw blade brazing and metal powders melting.
Main Features
Separated heater on a cable so it can be used by hand like a wand for added heating flexibility.
Specially designed for heating and welding thin metal parts, blades and melting of small quantity of metallic powder, ultra fast.
Light weight (only 45 Lb), portable (with built-in handle), instant heat and up to 90% energy savings
Ease of use: just plug in the power and connect the water cooling system, our simple instruction allows you to use the heater in 15 minutes.
Precise control with digital output, frequency and current displays.
Remote foot switch for safer operation.
Dual automatic and manual modes.
Optional graphite and silica crucibles available. (melting material decides crucible type, weight and size of the material decide crucible size)
ISO 9001:2008 registered manufacturer.
We provide sample testing and custom made coils in our New Jersey facility
Safety Features
Overvoltage protection: machine shuts down, overvoltage light turns on and buzzer sounds continuously when line voltage exceeds 260V. Alarm shuts off automatically when voltage returns below 260V.
Overheat protection: if sensor detects heat sink temperature is over 55C, machine shuts down, overheat light turns on and buzzer sounds continuously. Decrease water temperature until alarm goes off.
Overcurrent/malfunction protections: machine shuts down, indicator light turns on and buzzer sounds continuously in one of these situations:
Short circuit exists between work piece and induction coils
One of the machine parts becomes overheated
Interfering signal detected
Machine malfunctions
Induction coils touching each other
Line voltage is too low
Low water pressure protection: if water pressure goes below 29 PSI, machine will shut down, water protection light will turn on and buzzer will sound continuously.
CAUTION
Always wear protective gear including goggles when operating the machine. Crucibles must be covered at all times during operation. Across International is not responsible for any injury or damage caused by misuse.
Running without a work-piece for extended periods of time may cause damage to the machine.
Circulating water must be pure, soft and below 45C.
Machine must be grounded properly at all times.
Absolutely no thread tape (or related material) may be used in the installation of induction coils.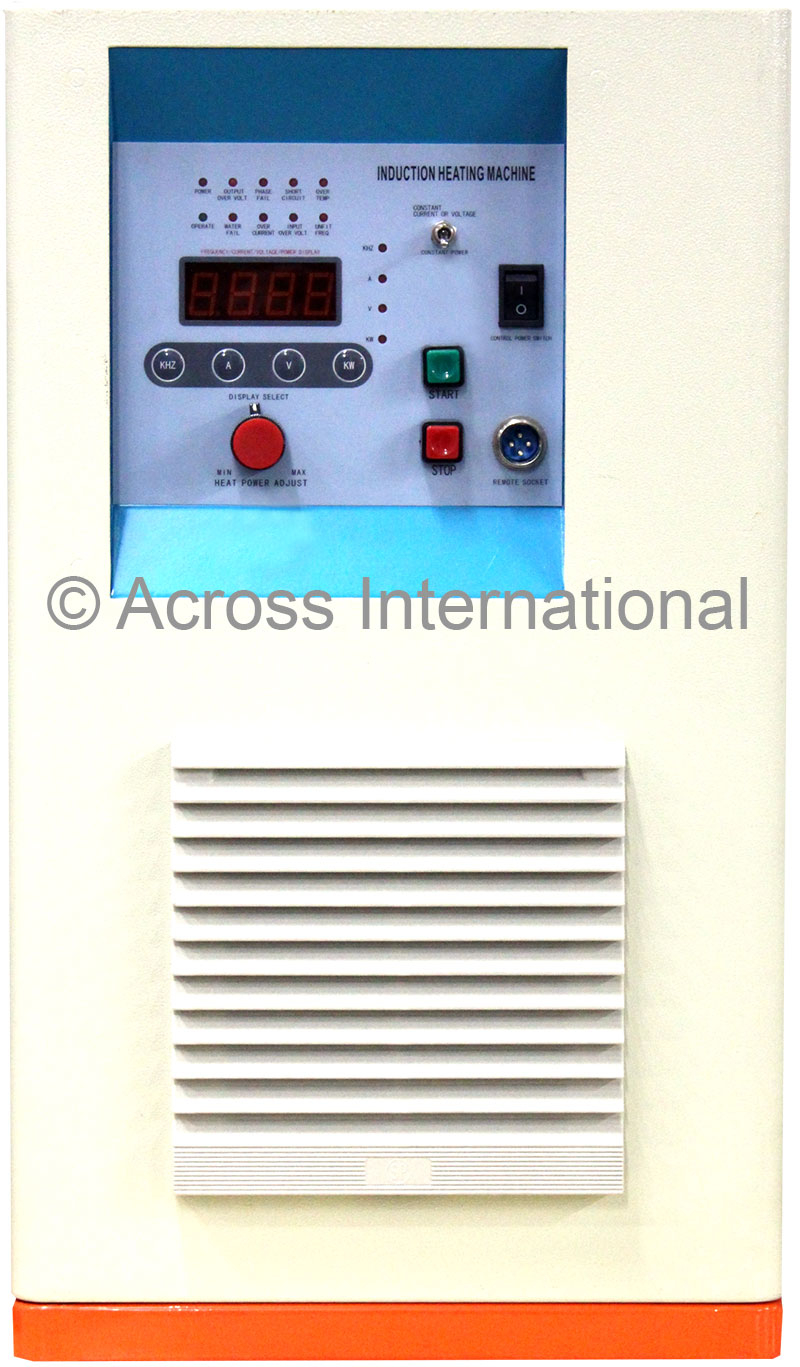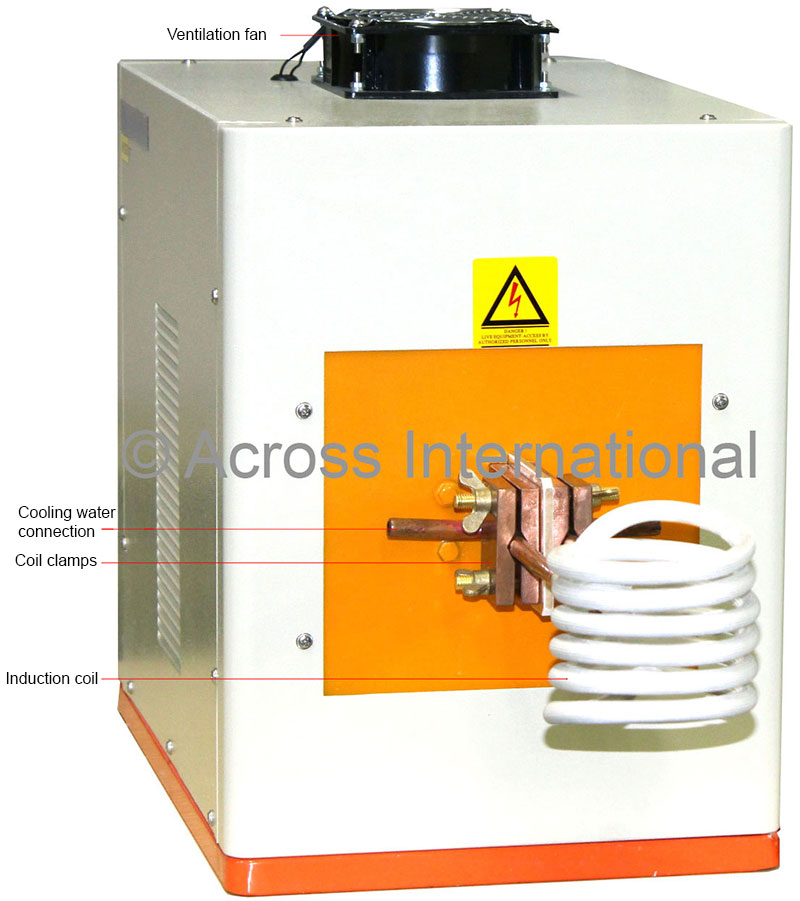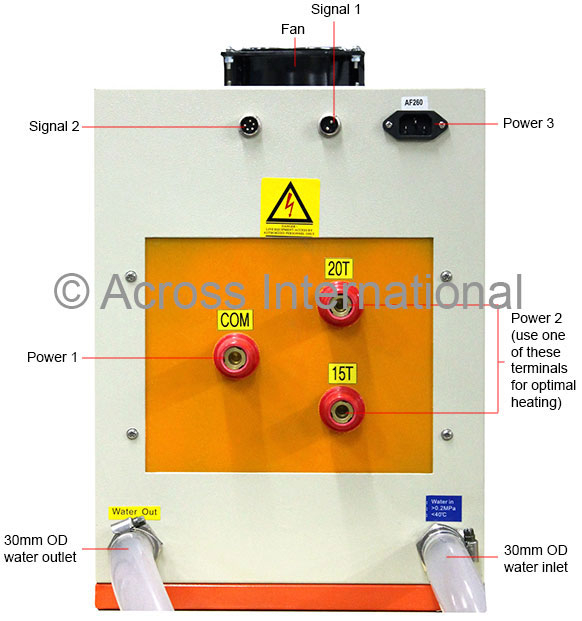 Specifications
 Max. input current
38A (50A 3-phase circuit breaker required)
Power
 460 VAC, 50/60Hz, three-phase

 Output frequency
 50-250 KHz
 Input power
 30 KW
 Duty cycle
100%, 24-hour
 Heating timer
 1-99.9 seconds
 Dwelling timer
 1-99.9 seconds
 Air cooling
 Rear fan

 Water pressure
 ≥ 0.2 Mpa (29 PSI) you may use tap water
and water pump (>1/4HP & >240 Gph)
 Water flow
 > 1.4 gallons (5 liters) per minute
 Induction coil
See detail specs below, we will make coils according to your requirements
Weight
 Power supply: 65 Lb, heater: 50 Lb
 Remote foot switch
 7 feet
Standard package
| | | |
| --- | --- | --- |
| Part description | Quantity | Part image |
|  IHG30AB induction heater | 1 set | |
|  Remote switch |  1 pc | |
|  Power cables | 2 pcs | |
|  Power connector | 1 pc | |
|  Data cables | 3 pcs | |
|  Induction coil | On demand | |
|  Stainless steel hose clamp | 1 pc | |
| Fuse | 1 set | |
| User's manual | 1 pc | |