Description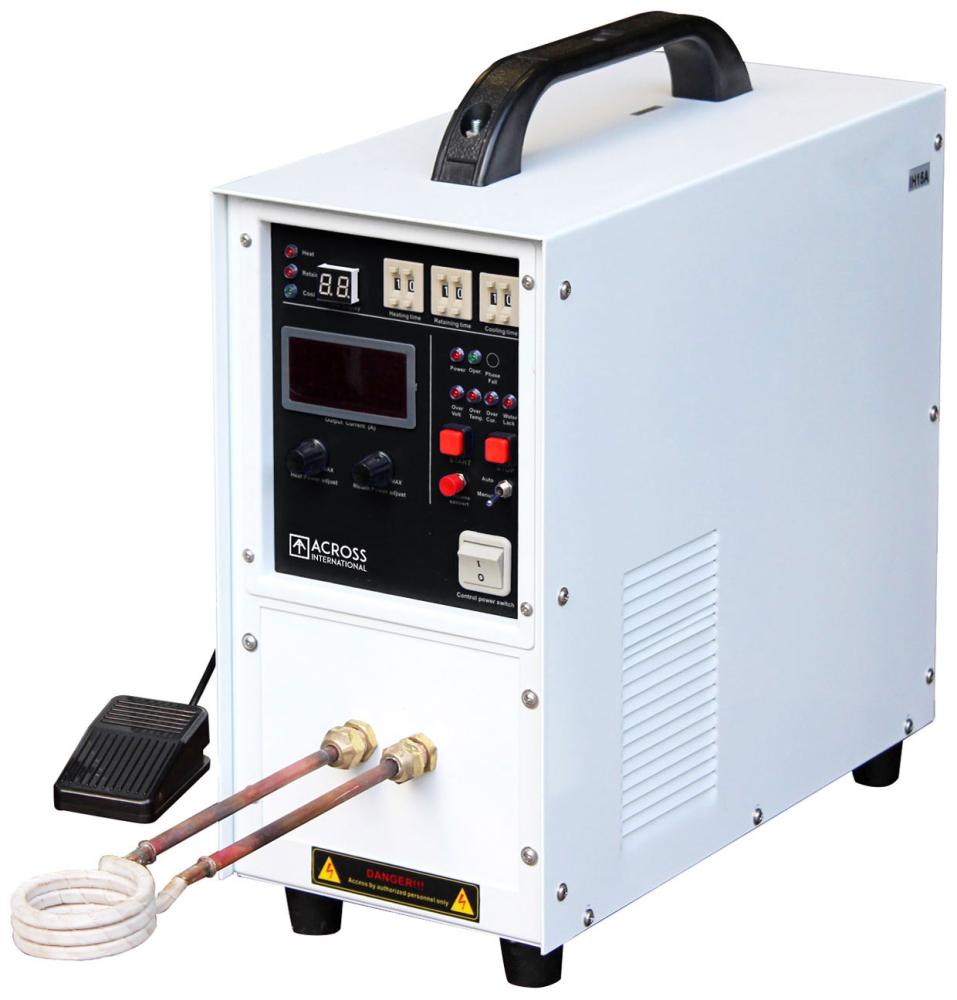 Note: This model only available in 460-480 volt single phase.
Across International IH series mid-frequency induction heaters are designed to operate between 30 and 80 kHz. Mid-frequency heaters are excellent for small parts heating, cutting, diamond tool brazing, soldering copper plumbing fittings, auto parts heat-treating, annealing of stainless steel containers and more.
Mid-frequency induction heaters are the simplest in terms of design and implementation. With their low cost of ownership and maintenance, they are the most popular and reliable machines. The 15kW models are especially popular for their large power capacity and small footprint at an affordable price. This makes them standard equipment for many factories, labs and workshops where 230V AC is available.
Main Features
Ease of use: just plug in the power and connect the water cooling system, our simple instruction allows you to use the heater in 15 minutes.
Light weight (only 60 Lb), portable (with built-in handle), instant heat and up to 90% energy savings.
Precise control with digital time and current displays.
Remote foot switch for safer operation.
Dual automatic and manual modes.
Optional graphite and silica crucibles available. (melting material decides crucible type, weight and size of the material decide crucible size)
Custom coil design (fixed coil or coil on a cable so it can be used by hand like a wand).
Frequency is non-adjustable, it depends on the coil design (diameter of turns, numbers of turns, copper tubing diameter and total length).
ISO 9001:2008 registered manufacturer.
We provide sample testing and custom made coils in our New Jersey facility.
Safety Features
Overvoltage protection: machine shuts down, overvoltage light turns on and buzzer sounds continuously when line voltage exceeds 260V. Alarm shuts off automatically when voltage returns below 260V.
Overheat protection: if sensor detects heat sink temperature is over 55C, machine shuts down, overheat light turns on and buzzer sounds continuously. Decrease water temperature until alarm goes off.
Overcurrent/malfunction protections: machine shuts down, indicator light turns on and buzzer sounds continuously in one of these situations:
Short circuit exists between work piece and induction coils
One of the machine parts becomes overheated
Interfering signal detected
Machine malfunctions
Induction coils touching each other
Line voltage is too low
Low water pressure protection: if water pressure goes below 29 PSI, machine will shut down, water protection light will turn on and buzzer will sound continuously.
CAUTION
Always wear protective gear and goggles when operating the machine. Crucibles must be covered all the time during operation. Across
International is not responsible for any injury or damage caused by misuse.
Do not run no-load operation for a long period of time, it might cause damage to the machine.Circulating water must be pure, clean and below 45C.
Machine must be grounded properly all the time during operation.
Do NOT use single-turn coil if coil diameter is smaller than 4 inches, it will cause high frequency damage to the machine.
Thread tape (or related material) is absolutely prohibited during installation of induction coils.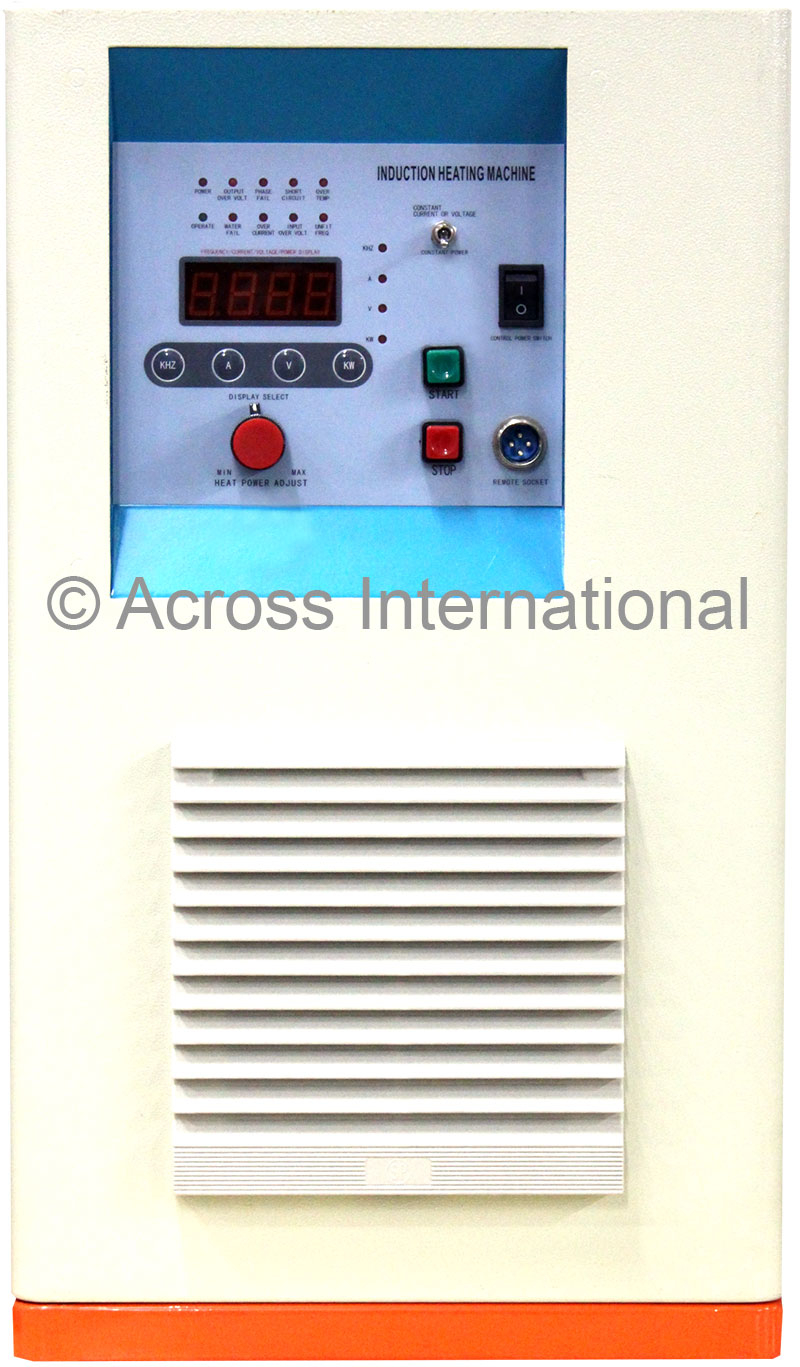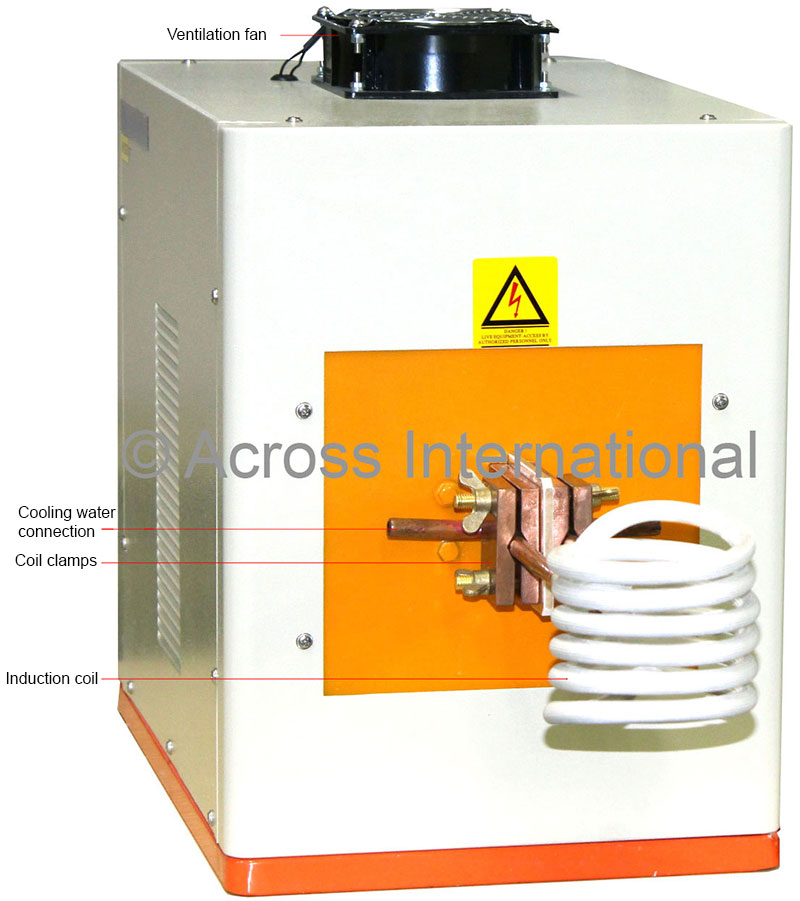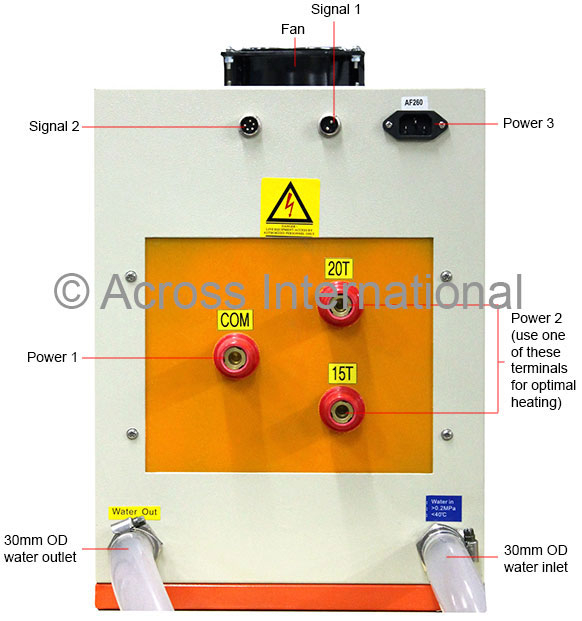 Specifications
 Max. input current
19 A (25A 3-phase circuit breaker required)
Power
460 VAC, 50/60Hz, three phase (380V model available upon request)
 Power distribution cord
10-gauge 4-conductor Max 25A (10/4 SOOW for 3 PH system)
 Output frequency
 30-80 KHz
 Heating/retaining current
200-1000 A (displayed on control panel)
 Max. oscillating power
 25 KW
Max Input power
 15 KW
 Duty cycle
80%
 Heating/dwelling/cooling timers
 1-99 seconds
 Water pressure
 ≥ 29 PSI (0.2 Mpa) you may use tap water
and water pump (>1/4HP & >240 Gph)
 Water flow
 0.5-1.3 gallons (2-5 liters) per minute
 Induction coil
See detail specs below, we will make coils according to your requirements
Weight
 Unit: 60 Lb, shipping: 85 Lb
 Size
 Unit: 23x9x18″, shipping: 28x14x26″
 Remote foot switch
 7 feet
 Max. melting capacity
7 Lb (gold, silver, copper), 2 Lb (steel, aluminum)
Standard package
| | | |
| --- | --- | --- |
| Part description | Quantity | Part image |
|  IH25A power supply | 1 pc | |
|  Foot switch (7 ft) | 1 pc | |
|  Induction coil: 8mm diameter, 75x300mm IDxL, adjustable height. Coil is insulated to prevent sparks caused by work piece touching the tube. | 2 pcs | |
|  Stainless steel hose clamp | 8 pcs | |
| 0-5 V Cable | 1 pc | |
| Fuse | 5 pcs | |
| Induction coil adapter (to protect the coil connectors on the machine, good for users who change coils frequently) | 2 pcs | |
| User's manual | 1 pc | |